Viral News Boy :- I know we are all familiar with what a bra is, but for the sake of formality:
According to Wikipedia, A bra, short for brassiere or brassière, is a form-fitting undergarment designed to support or cover a woman's breasts. Bras are designed for a variety of purposes, including general breast support, enhancing breast size, creating cleavage, or other aesthetic or practical considerations.
As mentioned above, we wear bras for various reasons, but again, there's many different types of bras out there, and they do nit all serve the same purpose.
I constantly walk into stores and end up buying bras just because they're cute, and guess what, I don't even end up wearing them. What a waste of money! That's when I decided to do a little bit of research on the bra phenomenon, and in this article, I will be sharing my findings with you.
Size matters!
Admittedly, our bosoms are not the same size, and so we most likely won't be shopping for the same sizes, nor types of bra.
Traditional bra sizes are a combination of letters and numbers. The number portion of the size (the 34 in 34C for example) represents your band size or the measurement around your rib cage just below your breasts. The letter portion of your bra size is your cup size.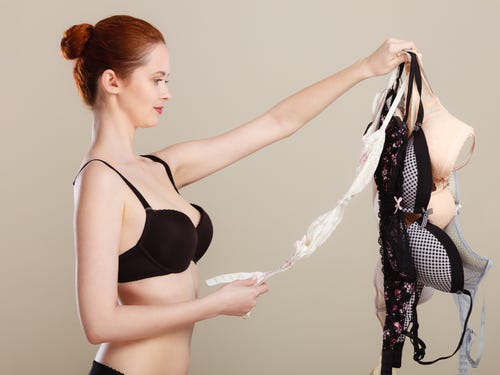 What's your bra size?
To get this number pull a soft measuring tape tightly around the bottom of your bra band while wearing it. Round to the nearest whole number and add four (five if the number is odd). This is your band size.
To get this you'll need your bust measurement. Measure around your chest again this time placing the measuring tape at nipple level. This is your bust measurement. Get your cup size by subtracting your band size from your bust size. If the difference is a 1 your cup size is an A, 2 a B, 3 a C, etc.
Wrong bra size?
Here are a few telltale signs that you may not be wearing the right bra size: wrinkling in the cups, underwire poking the sides of your breasts, a band that rides up, cup spillage, slipping straps, or a bra that hikes up when you lift your arms.
The many types of bras out there.
Existing bras in a nutshell include:
Bra styles based on neckline shape:
Sweetheart neckline
Plunge
Balconette
Bra types based of function
T-shirt Bra
Push-up Bra
Strapless/multiway Bra
Sports Bra
Minimiser
Bralette
Front closure Bra
Bra types based on construction:
Wired
Non-wired
Padded
Non-padded
Bra types based on neckline:
Full coverage
Demi coverage
Understanding construction
Wired bras are most likely to offermore support also reducing the strains of backaches. Non-wired bras on the contrary may be more versatile, but not offering much support and precision.
Padded bras cloaks visibility of the nipple while giving more volume to your bust, and the non-padded bras are only a fabric between the breast and the clothing.
Understanding neckline
The neckline determines visibility of the bra and the cleavage. If you are wearing an outfit with a low neckline, demi coverage is the way to go. But if you are wearing a higher neckline, any sort of coverage plays well.
1. The strapless
Strapless bras are a must for any shoulder-baring outfit if you don't want visible straps. Many have silicone lining that sticks to skin and prevents slipping.
Perfect for shoulder-baring outfits, the two cups of the strapless Bra are held in place by a strong, wired under-band. Since all the support comes from this band, it is important to wear the right fit – if it's too tight, you'll be uncomfortable and if it's loose it'll keep slipping off!
2. T-shirt bra
These bras are typically seamless with round, molded cups, so—true to their name—they (usually) don't show under a tight-fitting T-shirt
Designed to go invisible under body-hugging outfits, this Bra has seamless, smooth cups that do not show, and support your bust gently
3. Sports bras
These are anti-bounce and offer maximum support. Sturdier than everyday Bras, women's Sports Bras are designed to provide support to the breasts during workouts.
They come in a range of styles, but for the most part, these guys are all about providing support whether your workout is low- or high-impact.
Depending on the outfit, your needs and your body, you should be very careful when selecting your bra.